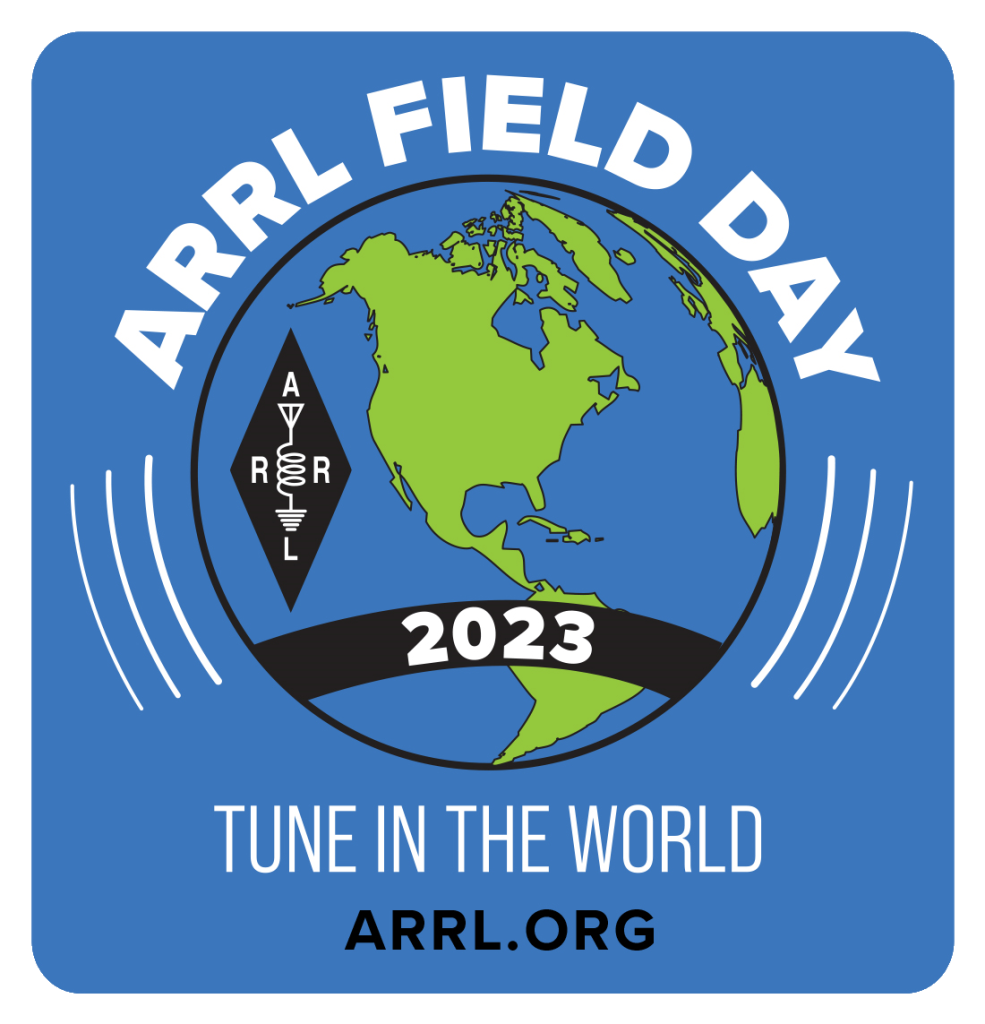 Field Day 2023 is coming up on the weekend of June 24/25
This year, we will be at Arrowhead Orchard, in Paris, OH. (see the map below)
Arrowhead Orchard on State Rte 172, just west of Paris.
GPS coordinates are 40.79947807984391, -81.18184216026681
Or click here for directions
For more information, contact our Field Day Chairman,
John Myers
John@WG8X.net
Mission Statement
At the Alliance Amateur Radio Club, our mission is to
Foster camaraderie
Promote skill development
Enhance emergency communication preparedness through our participation in the Field Day exercise. (Read More)
What Is Field Day?
ARRL Field Day is the single most popular on-the-air event held annually in the US and Canada. On the fourth weekend of June of each year, more than 35,000 radio amateurs gather with their clubs, groups or simply with friends to operate from remote locations.
Field Day is a picnic, a campout, practice for emergencies, an informal contest and, most of all, FUN!*
*Excerpt from "What is ARRL Field Day"
---
| | Class | QSOs | GOTA Qs | Total Q's | CW | Phone | Digital | Location | |
| --- | --- | --- | --- | --- | --- | --- | --- | --- | --- |
| 2017 | 3A | 937 | | | | | | Marlington Middle | |
| 2018 | 3A | 443 | 34 | 477 | 68 | 231 | 178 | Marlington Middle | |
| 2019 | 3A | 139 | 0 | 139 | 0 | 139 | 0 | Sebring Campgrounds | |
| 2021 | 3A | 512 | 32 | 544 | 332 | 122 | 90 | Sebring Campgrounds | |
| 2022 | 3A | 565 | 0 | 565 | 215 | 230 | 120 | Sebring Campgrounds | |
2022


Callsign: W8LKY
GOTA: N
GOTA callsign: N/A
100% Emergency Power: Y
Media Publicity: Y
Set up in Public Location: Y
Information Booth: Y
Message to SM:
Message Handling:
Satellite QSO:
Alternate Power: Y
W1AW Bulletin: Y
Educational Activity:
Elected Official Visit:
Rep of Served Agency: Y
Youth Participation:
Web Submission: Y



2023


Callsign: W8LKY
GOTA:Y
GOTA callsign:
100% Emergency Power:Y
Media Publicity:
Set up in Public Location:
Information Booth:
Message to SM:
Message Handling
Satellite QSO:
Alternate Power:
W1AW Bulletin:
Educational Activity:
Elected Official Visit:
Rep of Served Agency:
Youth Participation:
Web Submission:


2019


Callsign: W8LKY
GOTA: N
GOTA callsign: N/A
100% Emergency Power: Y
Media Publicity: Y
Set up in Public Location: Y
Information Booth: Y
Message to SM:
Message Handling:
Satellite QSO:
Alternate Power: Y
W1AW Bulletin: Y
Educational Activity:
Elected Official Visit:
Rep of Served Agency: Y
Youth Participation:
Web Submission: Y



2021


Callsign: W8LKY
GOTA:Y
GOTA callsign:KE8OWD
100% Emergency Power:Y
Media Publicity:Y
Set up in Public Location:Y
Information Booth:Y
Message to SM:
Message Handling
Satellite QSO:
Alternate Power:Y
W1AW Bulletin:Y
Educational Activity:Y
Elected Official Visit:
Rep of Served Agency:
Youth Participation:
Web Submission:Y


2017


Callsign: W8LKY
GOTA: Y
GOTA callsign: KE8FSZ
100% Emergency Power: Y
Media Publicity:
Set up in Public Location: Y
Information Booth:
Message to SM:
Message Handling
Satellite QSO:
Alternate Power:
W1AW Bulletin:
Educational Activity:
Elected Official Visit:
Rep of Served Agency: Y
Youth Participation:
Web Submission: Y



2018


Callsign: W8LKY
GOTA: Y
GOTA callsign: KE8FSZ
100% Emergency Power: Y
Media Publicity: Y
Set up in Public Location: Y
Information Booth: Y
Message to SM: Y
Message Handling:
Satellite QSO:
Alternate Power: Y
W1AW Bulletin: Y
Educational Activity:
Elected Official Visit: Y
Rep of Served Agency: Y
Youth Participation:
Web Submission: Y


2015


Callsign: W8LKY
GOTA:
GOTA callsign:
100% Emergency Power: Y
Media Publicity: Y
Set up in Public Location: Y
Information Booth:
Message to SM:
Message Handling
Satellite QSO:
Alternate Power:
W1AW Bulletin: Y
Educational Activity:
Elected Official Visit:
Rep of Served Agency:
Youth Participation:
Web Submission: Y



2016


Callsign:
GOTA
GOTA callsign
100% Emergency Power:
Media Publicity:
Set up in Public Location:
Information Booth:
Message to SM:
Message Handling
Satellite QSO:
Alternate Power:
W1AW Bulletin:
Educational Activity:
Elected Official Visit:
Rep of Served Agency:
Youth Participation:
Web Submission: Y


2013


Callsign: W8LKY
GOTA:
GOTA callsign:
100% Emergency Power: Y
Media Publicity: Y
Set up in Public Location: Y
Information Booth: Y
Message to SM: Y
Message Handling:
Satellite QSO:
Alternate Power:
W1AW Bulletin: Y
Educational Activity: Y
Elected Official Visit:
Rep of Served Agency: Y
Youth Participation: Y
Web Submission: Y



2014


Callsign: W8LKY
GOTA: Y
GOTA callsign: KD8VVL
100% Emergency Power: Y
Media Publicity: Y
Set up in Public Location: Y
Information Booth: Y
Message to SM:
Message Handling:
Satellite QSO:
Alternate Power: Y
W1AW Bulletin: Y
Educational Activity:
Elected Official Visit:
Rep of Served Agency:
Youth Participation:
Web Submission: Y


2011


Callsign: W8LKY
GOTA: Y
GOTA callsign: KD8QCF
100% Emergency Power: Y
Media Publicity: Y
Set up in Public Location: Y
Information Booth: Y
Message to SM: Y
Message Handling:
Satellite QSO:
Alternate Power: Y
W1AW Bulletin: Y
Educational Activity:
Elected Official Visit:
Rep of Served Agency:
Youth Participation:
Web Submission: Y



2012


Callsign: W8LKY
GOTA: Y
GOTA callsign: KD8RUQ
100% Emergency Power: Y
Media Publicity: Y
Set up in Public Location: Y
Information Booth:
Message to SM:
Message Handling:
Satellite QSO:
Alternate Power:
W1AW Bulletin: Y
Educational Activity:
Elected Official Visit:
Rep of Served Agency:
Youth Participation:
Web Submission: Y


2009


Callsign: W8LKY



2010


Callsign: W8LKY
GOTA:
GOTA callsign:
100% Emergency Power: Y
Media Publicity: Y
Set up in Public Location: Y
Information Booth: Y
Message to SM: Y
Message Handling: 1
Satellite QSO: Y
Alternate Power: Y
W1AW Bulletin: Y
Educational Activity: Y
Elected Official Visit:
Rep of Served Agency:
Youth Participation:
Web Submission: Y